Historic Mining Camps & Ghost Towns of Northeastern Washington State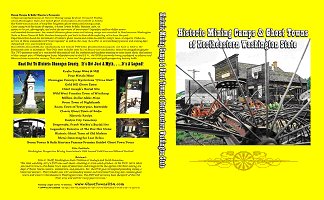 Join famed ghost town explorer Jerry Smith as he hits the dusty trail in search of long-lost forgotten ghost towns and mining camps. Come along with his team of experts, a Boom Towns & Relic Hunters crew, on quests to locate, photograph, and solve the mysteries of yesteryear's legendary million-dollar mines and vanished boomtowns.
See several ultimate ghost towns and mining camps ever revisited in Northeastern Washington State as Boom Towns & Relic Hunters transports you back in time while exploring relics from the past.
Experience first-hand the excitement of historic ghost towns and mines located by Jerry's team of experts. Probe the secrets of these unprecedented "time capsules" as well as the clues they offer to extraordinary pioneer and mining days dating back over one hundred years.
Narrated by Jerry Smith, his colorful forty-five minute DVD video presentation transports one back in time to the boomtown days of yesteryear. This DVD even includes over 211 of Jerry's rare and historic award-winning photographs!
The DVD presents itself as a wonderful educational tool for students and teachers wanting to learn more about the history of this unique part of Washington State. Manufactured in the U.S.A., the DVD is currently being purchased by schools and libraries from across the country. This video is a "must see" for ghost town and gold prospecting history buffs.
For those planning a trip to the area, this production will provide "advanced" information for a greater appreciation once you have arrived.
Head Out To Historic Okanogan County. It's Not Just A Myth....It's A Legend!

Famous Kaaba Texas Mine & Mill
Four Metals Mine
Okanogan County's Mysterious "China Wall"
Gold Hill Ghost Town
Chief Joseph's Burial Site
Wild West Frontier Town of Winthrop
Million-Dollar Alder Mine
Boom Town of Nighthawk
Boom Town of Yesteryear, Riverside
Classic Ghost Town of Bodie
Historic Roslyn
Roslyn Boot Hill Cemetery
Desperado, Frank Watkin's Burial Site
Legendary Remains of The Hee Hee Stone
Historic Ghost Town of Old Molson
Metal Detecting for Lost Relics of The Past
Boom Towns & Relic Hunters Famous Premier Guided Ghost Town Tours


Reviews:
Fritz E. Wolff, Washington State Division of Geology and Earth Resources:
"The time watching Jerry's DVD was well spent, resulting in a top-notch product. In his DVD, Jerry takes you back in time to the Boom Town days of yesteryear and brings to life the ageless Old West mining-era days of Boom Towns, miners, prospectors, and pioneers. Yet, the DVD goes far beyond providing simply a historical account. This includes over 211 outstanding photos and locations from long-lost, famous ghost towns and mines in Northeastern Washington State. The DVD will certainly keep the spirit of the Old West alive and well for many years to come."
Director:
Jerry L. Smith

Cast:
Laurie D. Smith, Sharon Faulkner, Jerry L. Smith, Joe Grau, and Cody Smith

Awards:
Lost Treasure Magazine, DVD of the month, October 2000.

Gold Prospectors Magazine, July 2004.

Nostalgia Magazine, February 2006.

Film Festivals:
Washington Prospectors Mining Association's 10th Annual Gold Gem and Mineral Festival.

Title #210404
Running time: 45 minutes

To order Jerry's DVD from Amazon.com, please click on the DVD below.