Riverside today is a town with only a few business. There remains a saloon, DeTro's western store, a post office and a city hall. As people seek out places to live that are still rural and with elbow room, Riverside and its colorful history will never be forgotten.

Originally known as Blackwell's Riverside Store, built in 1916 now houses De Tro's Western Store

A Ghost in Riverside?

The Riverside cemetery has a legend attached to it. There is a grave on the far side which, according to legend, contains the remnants of Frank Watkins, Riverside's only murder victim.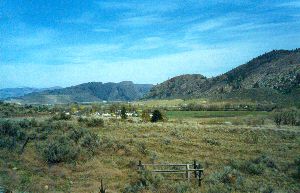 Frank Watkins tomestone, with Riverside in center background
The story goes that Frank Watkins, a gun toting cowboy, had been run out of Oregon by angry ranchers. He arrived in Riverside in 1903 with a string of hot blooded horses, having many mixed brands. That night Watkins entered the saloon and ordered up his favorite drink, a "Tom and Jerry." Jack Williams the owner of the saloon told him that he had no more hot water for Tom and Jerry's.
Watkins pulled out his six shooter and shot the spout off of the kettle which sat on the wood stove. In the crowd was a man, carpenter by trade, who at the time had his saw in his hand, when he heard the shots, he yelled and threw up his hands. Watkins disarmed him of his saw, and before leaving the saloon, put three bullet holes through the roof. The one time saloon is now a small grocery store, and the three bullet holes are still there to be seen in the roof today.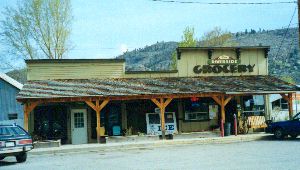 The one time saloon where the desperado Frank Watkins did his drinking, is now a small grocery store

The bullet holes from Frank Watkins six shooter can still be seen today
The following spring Frank Watkins met his death. After riding into town, the desperado rented space in Kendall livery stable for his horse and himself, then rolled out a gunny sack to spend the night. No one ever learned who shot Watkins. He had been shot right through the sacks, with a single wound to the head, killing him as he lay sleeping.
When morning came, nobody in Riverside was sorry to hear that this desperado was dead, AND the local town people didn't want him sleeping in their cemetery either, rubbing elbows with their righteous kin.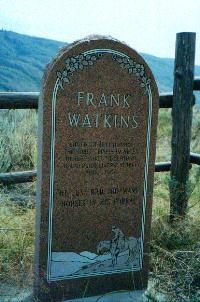 A fitting inscription to an end, "He just had too many horses in his corral."
His grave is located about five hundred yards outside the cemetery on top of the hill to the south of the cemetery. The restless ghost of gun toting Frank Watkins is said to have haunted the Riverside Cemetery for the last ninety five years because the town folks wouldn't let him be buried in the cemetery.

Where the gun toting cowboy, Frank Watkins, is layed to rest.