An old prospectors cabin from the boom town days of Liberty.

In more then a century its miners have mined more than three and a quarter tons of placer gold. Placer gold in large quantities was discovered on Swauk Creek in 1868, but the placer miners soon found that its eastern tributary, Williams Creek, was even richer in placer gold.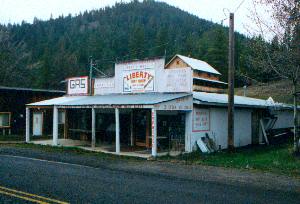 Around 1912 Liberty had a hotel, doctor's office, school, barbershop, and a store

The Liberty Historic District has been placed on the National Register do to its exceptional American History of the past.
Historical marker. Liberty was placed on the National Register October 15, 1974 by the National Park Service and U.S. Department of the Interior

Today the present townsite of Liberty, which has carried three different names still stands beside famous Williams Creek as it has for more than 131 years, as a tribute to the mining days past.