Certainly a unique and specialized site, and if you are looking for research into ghost towns of the USA this is a very useful resource. Comprehensive, nicely setout and with as much information as you will most likely ever need to know about ghost towns. Check this site out - it's different and makes interesting reading.

Honored by Lost Treasure Mag. as Site of the Month, October 2000
On behalf of the Shafer Museum Associates I would like to express our thanks to you for doing such a GREAT job on the new website for us. It should bring alot of favorable comment from viewers and bring us lots more visitors to the Museum. I am personally delighted and grateful to both you and Jerry for doing it for us.
Most Sincerely, Barbara Shafer Duffy




Boom Towns & Relic Hunters assisted King 5's Northwest Backroads TV show with their shoot in the historic ghost town of Molson on May 21st!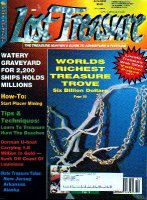 Boom Towns & Relic Hunters has been featured in the May and June issue of Lost Treasure Magazine - the treasure hunter's magazine of choice.
A great contribution to our state, thank you. - Governor Gary Locke, Olympia, Washington State
Too Cool School House Educational Site of the Week for the Week of 03/13/2000
We are looking high and low for the best educational web sites active today. The School House presents the Too Cool School House Educational Site of the Week as carefully selected by our resident educator, Grace Smith. Check it out, and happy learning!
Boom Towns & Relic Hunters of Northeastern Washington is the WWW's comprehensive and detailed Web site on the history of ghost towns of northeastern Washington state. Covering many of the ghost towns within six counties, the site offers text and historical photos of gold rush and boom towns of yesteryear. Long ago places like First Thought Mine, the Alder Mine on Alder Creek, and The Fourth of July Mine illustrate where millions of dollars in gold and silver were produced by colorful miners of a forgotten era. Information on relic hunting and metal detecting Rounds out the site.
Rating: A wonderful place for learning about the old West mining era.
Grace Smith, Ph.D.
Copyright 2000
The "Top 8 Homework Research Sites" list is compiled every week by the editors of HomeworkCentral.com. Boomtowns & Relic Hunters was selected the top site for the week of August 16, 1999!
"Boomtowns and Relic Hunters is one of the exceptional Web sites that fully harnesses the power of the Internet. The Web site uses digital virtuality to recount the history of Northeastern Washington State, and to present a county-by-county section with pages for each of the many ghost towns of the area. The scholarship is careful and complete, and photographs illustrate the text. Professionals and amateurs of the local historian arts have long been limited to sharing their knowledge in hometown museums and publications by local historical societies. The Internet changes that, as this Web site dramatizes. Drop by the Blewett page, for example, to learn about this gold-mining town of the 1890s that had the reputation as one of the most disorderly and violent mining camps in Chelan County. The good times rolled, but "after the bonanza high-grade veins gave up producing the ore, so did Old Blewett." - HomeworkCentral.com
"Boom Towns and Relic Hunters covers North East Washington state and includes dozens of ghost town pages in six different counties. Jerry Smith has put together an extensive amount of historical research and we commend him on his efforts. The site should be of particular interest to anyone travelling or living in B.C., who may have the opportunity to visit some of these locations." - Ghost Towns of Ontario
"Jerry Smith of Okanogan County in Northeastern Washington has a great Boom Town and Relic Hunters Site that is a "must see." Ghost Town History in that region of the state is Jerry's specialty. Read about the history of miners, prospectors, pioneers and boom town history. There's information on Metal Detecting and Relic Hunting; be sure to read the Treasure Hunter's Code of Ethics. Jerry encourages you to add to his historical site if you have information. Like an old photo or a story you might know. Leave him a note. Bookmark his site, as it's worth many looks." - Suite 101.com